Jeroen
biography
Asi Se Toca!
The trio Asi Se Toca! - Ed Beerepoot (nylon-stringed solo guitar), Jeroen van der Poel (steel-stringed rhythm guitar) and Paul Beerepoot (bass guitar) - produce original world music that combines the best of Gipsy Jazz and Flamenco. This seemingly authentic gypsy music appears to arise spontaneously from a love of music, and is robustly played with expressive enthusiasm and palpable energy.
In addition to their own repertoire Asi Se Toca! also play music by other artists such as Django Reinhardt, Moreno, Thelonious Monk, Tchavolo Schmidt, Stochelo Rosenbergh, Dorado Schmidt, Paco de Lucía, Manitas de Plata and Carlos Montoya.
For more information on this band see
www.asisetoca.nl
.
12

A very fast and furious swing
2

a tribute to thelonious sphere Monk,
good job!!
3

a fusion between jazz and flamenco comes true the gypsy rhythm guitarist plays the flamenco rhythm's and the other Gypsy brother plays the solo part, strange sound; brilliant guys!
1

a strange version of the old George Gerschwin composition. Those guys can swing!!
8

a loveley song played in 3/4 time
Alias:
Jeroen

Status: Offline
Threads:
6
Posts:
23
Songs:
6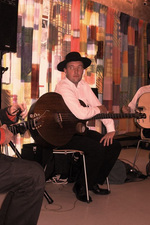 Joined: January 02nd, 2006
Last login: March 07th, 2006
My Messengers
| | |
| --- | --- |
| AIM: | n/a |
| ICQ: | n/a |
| Skype: | n/a |